Travel Information
Conference Location
Notary Hotel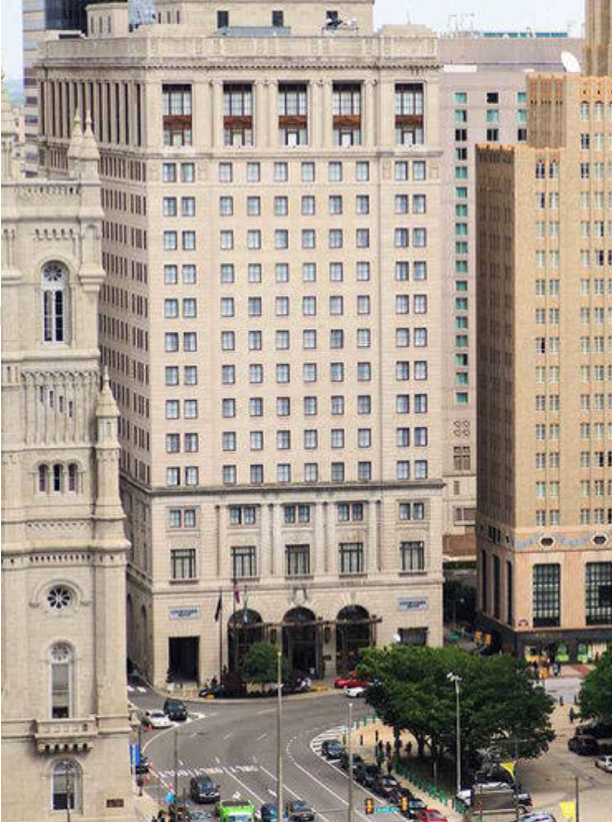 21 N Juniper St, Philadelphia, PA 19107
Listed on the National Register of Historic Places and boasting sophisticated, 1920s-inspired décor and furnishings, Notary hotel is a remarkably well-maintained landmark in the heart of Center City. Business and leisure travelers alike will appreciate our spacious, recently renovated accommodations, all of which feature complimentary high-speed Wi-Fi, luxurious beds, pristine marble bathrooms and expansive work stations.
In addition, there are over 100 Asian and Western style restaurants within walking distance of the hotel.
Parking Information
Parking Garage located on site. Additional Parking:
Parkway Corp Garage – 24 hours
1201 Filbert St. (access from Filbert, 13th, and 12th Streets) Self Park Only
Five Star Parking Lot – 24 Hours
1301 Market St. (corner of Market and 13th St., across from the Marriott) Self Park Only (215) 523-5740
Wanamaker Garage – 24 Hours
1300 Market St. Self Park Only
Lot and Garage Information is also available at:
The Philadelphia Parking Authority (philapark.org)
Philadelphia Parking - From $10 - Find, Book & Save 60% on Philly Parking
(parkwhiz.com)
Philadelphia Parking - Save Up to 50% | SpotHero
Airport Information
Philadelphia Intercontinental Airport (PHL) - located 12 miles from Hotel, 30-60 minute drive time.
Hotel Information
Notary Hotel
Situated in the heart of Philadelphia.
Room Rate: $ 169 Double or King

Please make reservations by clicking on the link below or calling our 24 Hour Central Reservations Department at 1-800-325-3535 asking for the Group Code: ICIBM2022 or ask for the group by name International Conference on Intelligent Biology and Medicine 2022 when making your reservation. The cutoff date for guests to make reservations is 7/17/2022.
Please use this link to make your reservation online. Please note that guests will get error messages, if booking reservations outside of the contracted dates or if the group block is full on one of the dates. .
Reservations received after July 1, 2022, or after ICIBM block is filled (whichever comes first) are subject to availability and prevailing rates.
ICIBM 2022 Travel Awards: Call for Applications
The goal of the ICIBM 2022 Travel Award is to encourage the participation of young scientists in training, including graduate, undergraduate and high school students as well as postdoctoral fellows. Specific consideration will be given to qualified applicants from underrepresented populations, minority institutes, female trainees, or those needs special financial support to attend ICIBM 2022.
Travel awards ($600 per trainee, helps cover registration and some travel cost) for students and postdocs are being made available for ICIBM 2022 through a National Science Foundation (NSF) grant. We expected to have at least 20 travel awards, thanks to the expected NSF conference support. Only trainees from the US and Canada are eligible to apply for the travel award.
To be considered for an award the candidate must:

Submit a paper/abstract to the conference by the deadline June 30, 2022 (* the first author of the ICIBM papers can submit their abstract of the papers again);
Be the first author on the paper/abstract;
Must be a student or a postdoctoral fellow;
Complete and submit the award application form by the deadline June 30, 2022.
The award application form can be downloaded from here. Please send the completed form to Drs. Frank Huang (Frank.Huang@cchmc.org) and Christina Bergey (christina.bergey@rutgers.edu)
by
June 30, 2022
.
Review Criteria
All applications will be reviewed and evaluated based on the submitted paper/abstract by the following criteria: (1) relevance to the topics of the conference, (2) significance of the work, (3) clarity of the presentation, and (4) soundness of the data.
The selected awardees will be notified via email prior to the meeting and publicly announced during the closing ceremony.
For more information on the Travel Awards, please contact Drs. Frank Huang (Frank.Huang@cchmc.org) and Christina Bergey (christina.bergey@rutgers.edu).